We've already covered, How to use Kaspersky Free after end of 30 days trial period? The resetting kaspersky process discussed before was bit typical and required users to perform many steps manually. A nice and simple Kaspersky Reset Tool is here, shared by brandon via comment, which allows you to Rest Kaspersky easily in a few clicks.
Kaspersky Trial Reset Tool (KTR911 by Nikko) is designed to reset kaspersky trial period and lets you use Kaspersky free after end of 30-day trial. The tool supports: Kaspersky PURE, Kaspersky Antivirus 2010, Kaspersky Internet Security 2010, Kaspersky Antivirus 2011, and Kaspersky Internet Security 2011.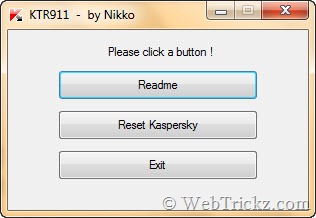 To use the tool, you first need to Disable Self-Defense (Open Kaspersky settings > Options and uncheck Enable Self-Defense. Click Ok.) Then Exit Kaspersky from the system tray, run the KTR911 tool and click "Reset Kaspersky". Now follow the steps as suggested by the reset tool.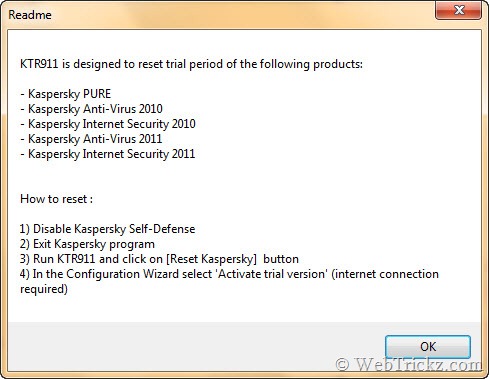 Update – Download KTR911 Reset Tool v10 [100% Safe & Portable]
Microsoft Windows 32-bit and 64-bit editions supported.
SUMBER : WebTrickz.com